Small-Group Wellness Programs
Providing large-group-caliber well-being programs and resources with the price, flexibility, and support that small groups and organizations deserve.
Small-Group Wellness Programs
At 3Fitt, we know that the most successful way to integrate a new wellness program into your business is to make sure it is easy-to-use, fits seamlessly into your employees' daily lives, and–most importantly–provides tangible impact.
Group wellness programs are no longer just for large corporations! With 3Fitt, small companies, communities, and organizations can implement an effective, transformative wellness program that meets your group's specific needs–and budget.
Flexible. 3Fitt grows with your organization! Start as simple–or complex–as you'd like, and add features as your group grows.
Affordable. Unlike major group wellness programs, 3Fitt doesn't require a high member threshold. We can work within budgets for organizations for budget-consciousness, grant programs, and more.
Effective. By harnessing the Power of Three, 3Fitt transforms wellness from an overwhelming tsunami into a simple-to-use whole-person wellness platform. We support the 3 pillars of health and wellness–fitness, family, & financial–in easy-to-adopt programs that support long-term change and success.
Would you like to learn more about how 3Fitt can support wellness in your small group, company, or community? Schedule an intro call or demo with our experts today!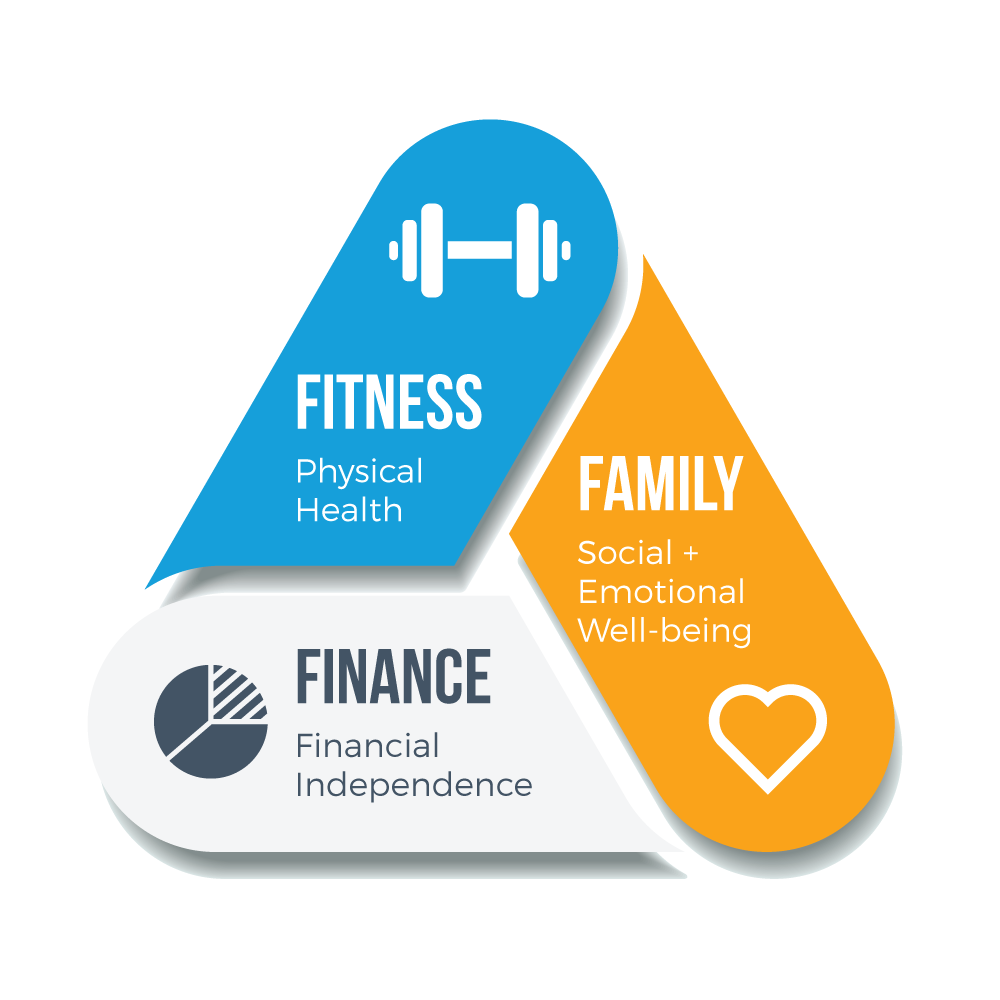 3 Pillars of Health
3Fitt's program is supported by the "Power of 3," which is the philosophy that the human brain is able to implement and sustain things in 3's better than any number. With 3Fitt, we break whole-person into 3 categories:
Fitness: This includes physical health and wellbeing. From healthy eating to exercise, disease management to smoking cessation, 3Fitt helps provide the tracking, tools, programs, and resources to help your members live a fit and healthy life.
Family & Friends: Whole-person wellness isn't just about physical health; it includes emotional and social health as well. In our family and friends pillar, 3Fitt helps small group members implement wellness steps to improve their emotional wellbeing and relationships.
Finance: We know the impact that financial stresses can have on health and wellness, emotionally and mentally as well as in relationships. Our finance health pillar helps your group members take steps to implement the knowledge, tools, and support to improve their financial health.
Learn more about The Power of 3 by clicking the button below.
3Fitt Small-Group Wellness Features
3Fitt's group wellness programs are flexible and effective, providing solutions that meet your small group or organization where you are while offering features that can grow with you as your group expands or changes. Below are some of our wellness program's most popular features. For more information or to see these features in action, schedule a demo with one of our small group wellness experts by clicking the button below. DEVICE INTEGRATION
3Fitt integrates with a wide range of devices & apps including activity & sleep trackers, wireless scales, blood pressure monitors, & more.

ACTIVITY TRACKING
In addition to device integration, users can easily log activity and nutrition using our extensive tracking database.

HEALTH ASSESSMENT
Use the built-in health assessment for a detailed health assessment report with access to an extensive library of resources.

CHALLENGES & INCENTIVES
Create challenges based on fitness, nutrition, or lifestyle. You can also create customized reward/incentive programs.

SOCIAL WELLNESS
Increase engagement by bringing people together for support, motivation, encouragement, and accountability. FINANCIAL WELL-BEING
Assess personal financial health and master crucial personal finance skills, including budgeting, savings, retirement and more.
EVENT SCHEDULING
Create and manage one-time or recurring events, including managing registrations, sending emails to participants, and more. MENTAL HEALTH VIDEOS
Our library of mental health videos integrates tools such as meditation, psychology, and neuroscience for total mind-body wellness.*

ONLINE COURSES
Video-based courses create a personalized coaching experience to motivate participants toward healthy outcomes & lasting change.*
*Please note, online courses & mental health videos are optional add-ons.
SCHEDULE A DEMO
Would you like to learn more about how 3Fitt can transform your company's wellness program? Schedule a demo with a wellness expert today.
ASK A QUESTION
Would you like to learn more about the 3Fitt Wellbeing Platform? Reach out or send us a message today to speak with a wellness expert.